22. aprīlis. Dodamies uz Zinātkāres centru "Zili brīnumi"

Mūsu darbi Ekoskolu Starptautiskās Rīcības dienās ir novērtēti atzinīgi - esam nopelnījuši balvu - dāvanu karti Zinātkāres centra "Zili brīnumi" apmeklējumam.
Novembris. Starptautiskās Rīcības dienas

Lazdiņas privātās pamatskolas "Punktiņš" struktūrvienības ZAĻĀ SKOLA Rīcības dienas bija gana piesātinātas https://www.facebook.com/valmieraszalaskola/?fref=ts
Piedaloties projektā "Ēdam atbildīgi!" atbildīgu pārtikas patēriņu saistījām ar klimata pārmaiņām.
24.oktobrī, Ekoskolu programmas "Ēdam atbildīgi" ietvaros, devāmies mācību ekskursijā uz Rīgu, uz Latvijas Dabas muzeju, kur bija vērojama ļoti interesanta izstāde "Paēdis un vesels". Interesanti, ka dažādos uzdevumos tika iesaistīti bērni, piemēram, pašiem bija jāsaliek savs veselīga uztura šķīvis.
4.novembrī, Valmieras Zaļajā skolā bija veģetārā diena – bērni spēlēja lomu spēles, zīmēja, rakstīja un diskutēja par gaļas patēriņu ikdienā, un kā to samazināt. Arī uzturs – brokastis, pusdienas un launags šodien skoliņā bērniem bija nodrošināts veģetārs. Iecere ir, ka arī turpmāk katru trešdienu bērniem skolā tiks nodrošināts veģetārs uzturs. Veģetārā diena notika Ekoskolu Rīcības dienu ietvaros.
Lai rosinātu bērnu izpratni par atbildīgu pārtikas patēriņu, par gaļas ēšanu – neēšanu, tika spēlētas lomu spēles, kurā darbojošies personāži strādāja lielveikalā, bioloģiskajā saimniecībā, intensīvajā saimniecībā. Bija ģimene, kurā ir tēvs, māte, divi bērni. Pēc spēles ir skaidrs, ka turpmāk ģimene iepirksies bioloģiskajā saimniecībā, jo bērniem ir jāsaņem pilnvērtīgs un sabalansēts uzturs. Secinājums no bērniem – labāk gaļu ēst mazāk, bet labas kvalitātes. Tika pētīts, kā izskatās klimata pārmaiņas, kad siltums, izplūdes gāzu un izmešu dēļ, netiek aizvadīts prom no zemes atmosfēras. Bērni zīmēja, rakstīja un diskutēja par tematu: "Gaļai Jā! Gaļai Nē!"
Valmieras Zaļā skola piedaloties Rīcības dienās, klimata pārmaiņas saista ar atbildīgu pārtikas patēriņu. Intensīvās lopkopības apjomu izaugsme ir viens no klimata pārmaiņas ietekmējošiem faktoriem. Tas saistīts gan ar metāna gāzes izmešiem, gan ar resursu ietilpību 1kg gaļas produkta saražošanai (5000-15000 litru ūdens patēriņš), kā arī nepieciešamajām augsnes platībām.
5.novembrī Valmieras Zaļās skolas virtuvē saimniekoja bērni, gatavoja ēst izmantojot vietējos un bioloģiskos produktus.
Lai vīrusi mums mestu līkumu, gatavojām ķiploku maizes. Izvēlējāmies vietējo Ķelmēnu rudzu maizi, kā arī zemnieku saimniecības ķiplokus. Saldajā ēdienā mums tapa biezpiena sacepums ar ogu sukādēm, kurš sanāca īpaši gards.
Piektdien, 6.novembrī, Valmieras Zaļajā skolā Rīcību dienu ietvaros notika diskusija par atbildīgu pārtikas patēriņu. Ar prezentāciju par pesticīdu un minerālmēslu izmantošanu pārtikas ražošanā, kā arī par alternatīvu un zemei draudzīgu saimniekošanu – par bioloģisko saimniekošanu, uzstājās Tiešās pirkšanas pulciņa Latvijā aizsācēja, Latvijas Lauku konsultācijas un izglītības centra projektu vadītāja Lāsma Ozola.
Diskusijā "Globalizēta/mūsdienu pārtikas sistēma" Valmieras Zaļās skolas vecāki un skolotāji tika iepazīstināti ar mūsdienu pārtikas patēriņa ķēdi un to, kā tā ir palielinājusies, jo visas sezonas garumā mūsu lielveikalu plauktos ir pieejams viss – ziemā Latvijas veikalos ir importēti dārzeņi un augļi, kā arī citas preces, par kuru izcelsmi varam vien nobrīnīties – veikala plauktos ir nopērkami produkti no visas pasaules! Pārtika ir samērā lēta, ir ļoti plaša izvēle un tā ir pieejama visu gadu, bet retais no mums ir aizdomājies, cik pārtikai ir garas izejvielu iegūšanas ķēdes. Katru gadu saražojam pārtiku 10 miljardiem cilvēku, kamēr 1/3 daļa no pasaules cieš badu... Šis bija tikai viens no tematiem, ar kuru tika iepazīstināti Zaļās skolas vecāki un skolotāji, kurš lika aizdomāties par mūsu ikdienas pārtikas patēriņu un paradumiem.
Lāsma Ozola mūs iepazīstināja ar lauksaimniecības monokultūrām, to, kā tiek lietoti minerālmēsli un cik daudz pesticīdu ir banānos. Tas viss vecākos raisīja pārdomas, vai ir iespējams dzīvot ekoloģiski? Diskutējām par to, kur Latvijā iespējams iegādāties ekoloģisku pārtiku, kuri sertifikāti par to atbild un beigu beigās nolēmām, ka vislabākais veids kā izaudzēt kvalitatīvi pārtiku ir darīt to pašam savā dārzā vai iesaistīties tiešās pirkšanas pulciņā, kur aktīvi jau darbojas daži vecāki (vairāk tiesapirksana.lv). Tiešajā pirkšanā bez starpniekiem ir iespējams iegādāties bioloģiski audzētu pārtiku no Latvijas zemniekiem. Tāpat arī lielas izmaiņas notiek Valmieras Zaļās skolas bērnu ikdienas ēdienkartē, jo tiek diskutēts ar ēdienu piegādātājiem par izejvielu un produktu maiņu.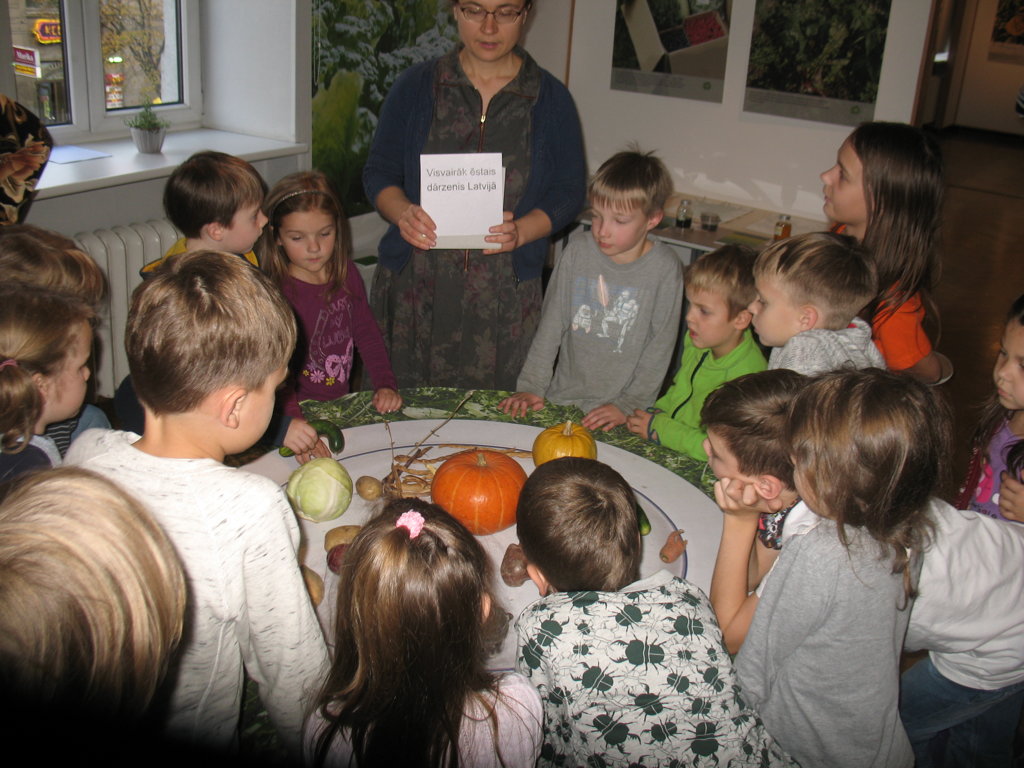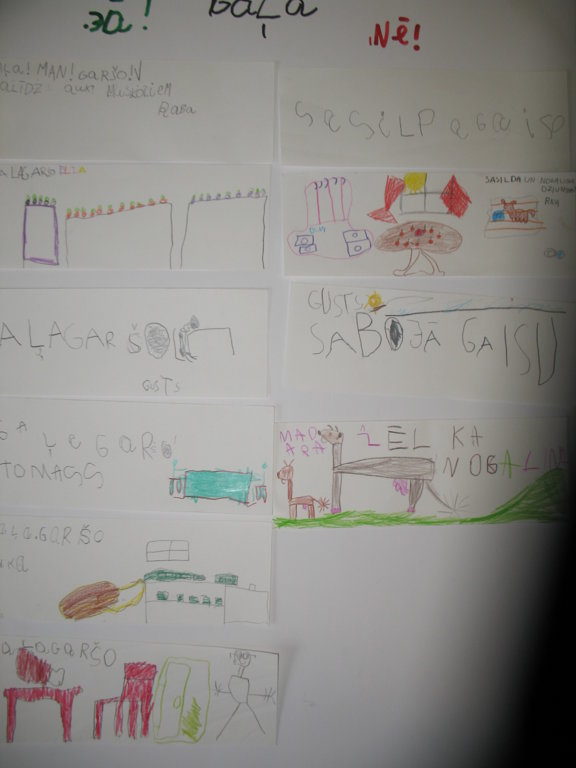 25. septembris
Nu sevi varam saukt par Ekoskolu, šo statusu apliecina Rīgā svinīgi saņemtais Ekoskolu Zaļais diploms par ieguldīto darbu skolas vides un apkārtnes izpētē, uzlabošanā.


Septembris

Mēs esam izvēlēti piedalīsies starptautiskā projektā izzināt pārtikas tēmu.
"Ēdam atbildīgi!" ir starptautiska, uz rīcību orientēta mācību programma Ekoskolām, kas aizsākas EYD 2015 (Eiropas attīstības gads 2015) ietvaros.
Aizvien svarīgāks kļūst jautājums gan par to, kādu iespaidu uz mūsu veselību, vidi atstāj pārtika, ko ēdam, gan arī par pārtikas sadalījumu pasaulē - tās trūkuma un pārprodukcijas paradoksu. Sākot apzināties atbildību par savu ķermeni, arī skolēni var sākt aizdomāties par pārtikas ietekmi uz vidi un cilvēku. Tā kā pārtika ir viena no mūsu pamatvajadzībām, šis temats ir nesaraujami saistīts ar daudzām vides tēmām, kuru skatīšana caur pārtikas prizmu veicina sistēmisku domāšanu un ilustrē to, kā pārtika ietekmē vidi, mūsu veselību un arī sociālos jautājumus globālā mērogā.
Programmā piedalās deviņas Eiropas valstis - Bulgārija, Horvātija, Čehija, Latvija, Malta, Polija, Rumānija, Slovākija un Slovēnija.
Caur dažādām aktivitātēm un izglītojošiem materiāliem, programma informēs par globāliem izaicinājumiem un to nozīmi vietējā līmenī – reģionā, pilsētā vai ciematā. Tā veicinās izpratni par efektīvu resursu izmantošanu, bioloģisko daudzveidību, klimata pārmaiņām, cilvēktiesībām un godīgu tirdzniecību; par šķietami attālinātām tēmām, kuras mēs varam ietekmēt pozitīvi vai negatīvi, mainot savus ēšanas paradumus.
Projekts tiks īstenots trīs gadu garumā, kopumā Latvijā iesaistot vismaz 100 izglītības iestādes.